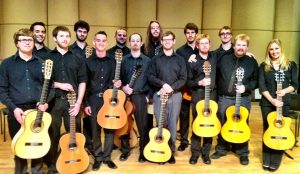 A delightful evening presented by the touring guitar ensemble from East Carolina University under the direction of Dr. Elliot Frank.
Hear a variety of works by American and Latin American composers including arrangements of popular and folk melodies from North and South America.
Beautiful melodies and rhythms will transport the listener to places both here and abroad.
Saturday, November 16, 2013
7:30 PM ~ Sanctuary