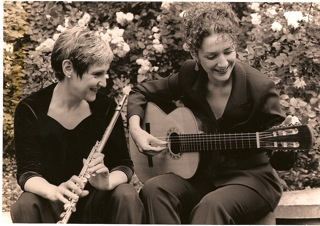 Saturday, February 25, 2012 at 7:30 PM in the Sanctuary
A spectacular program of World Music performed by two internationally renown classical guitar and flute artists.
Winner of the International Guitar Foundation competition, Antigoni Goni is listed regularly among the world's greatest living guitarists. Laura Gilbert has won multiple international awards and has appeared with many of the world's great orchestras. Together they present a stunning program of global music from Argentina, Brazil, Hungary, Serbia, France and India from their newly released CD.
For Printable PDF: Goni & Gilbert