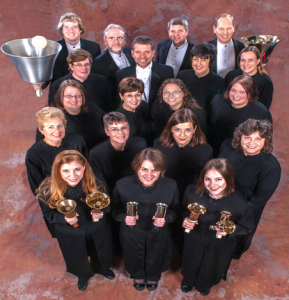 The exceptionally talented and entertaining Raleigh Ringers ring hand-bells with amazing technique and precision. Known nationally, we are excited to bring them to our series. Free tickets (limit 4 per person) are required for this concert from the church office beginning November 3rd.

Saturday, December 6th, 2014
7:30 PM – Brown Hall
Click Here to Download the Raleigh Ringers Poster PDF
Due to the overwhelming response for the upcoming Raleigh Ringers tickets, we have no more tickets available for this concert.  If you would like to be on a waiting list, please email smiller@sacpc.org with your name and phone number.  Don't miss the next concert on Saturday, January 24, 7:30 PM with Ed Bach and his Louis Armstrong Ensemble!  No tickets required.  Just come!